For Sale: BOLWELL - AN AUSTRALIAN ICON
$125 - GST, PACK, INSURANCE, DELIVERY INCL.
Select this photo for a larger view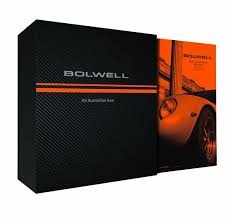 SPECIAL OFFER TO BOLWELL CLUB MEMBERS - $125 incl GST, 'extreme packaging', trackable, insured postage...
(Note: RR $145 incl GST plus postage).
· Bolwell has built more than 800 Classic World-class Sportscars
· Bolwell is Australia's Leading Composites Manufacturer
· Bolwell excels in Aerospace, Defence & Transport.
· Bolwell is Diversified - Architecture, Infrastructure, Aquaculture
· Bolwell is Versatile – from Wind-Farms to gold-medal-winning Cycles.
· Every Kenworth Truck Body has been built by Bolwell
· The Bolwell Brand has featured on Motorcycles, Yachts, Ride-on Games and more
· Bolwell is the Quiet Achiever – scores of Bolwell products are in everyday life.
This exclusive publication is the first to trace the entire 50Year+ history of one of Australia's most distinguished Industrial Achievers and Automotive Icons.
A magnificent premium production for the discerning collector and an invaluable resource covering some of Australia's finest industrial, sporting and automotive achievements.
This book is the Result of 20 years of research, and 5 years of intensive production….
More than 150,000 words, hundreds of photos, documents and memorabilia – much of it never sighted before,
Detailed Records of every one of the 10 models produced – as well as a glimpse into the future.
Fascinating snapshots (pix and history) of more than 80 beautiful Collectable Bolwell sports cars – still alive and well and running on road and track today.
Full-colour, glossy, ultra high-quality 250page super-A4 sized book, individually numbered.
Carbon-fibre fabricated slip-case and hardbound cover, silver foil stamped. Each book weighs 2kg!
Limited Edition, 50th Anniversary Collector's Item

SPECIAL OFFER TO BOLWELL CLUB MEMBERS - $120 incl GST, 'extreme packaging', trackable, insured postage...
(Note: RR $145 incl GST plus postage).
SEE THE SPECIAL GALLERY PAGE - BOLWELL AN AUSTRALIAN ICON - TO VIEW CONTENT

Location:
Sefton NSW
Contact:
Rob Luck
0416277990
info@topguntechnology.com