Forging on - Despite the dreaded virus
We're not ignoring the virus – in fact we're following all the guidelines – but we are forging ahead with our Club Development.
We're taking this time to build new resources for Club Members… and we're making some stunning progress.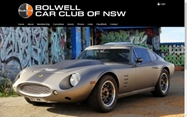 The most obvious is our excellent new website – aimed at enthusiasts (Bolwell and other Classic Aussie Sportscars) across the Country and across the Planet.
The Website will become the centre of the Bolwell Universe… and a go-to resource for all things Bolwell, plus lots more.
We have established new Club HQ in Granville Sydney, which will become a potential meeting place for Bolwellians once virus restrictions are lifted. Meanwhile we conduct Executive meetings by audio and audio-visual as required to maintain communication and complete tasks.
We are utilising the lock-down time to develop numerous resources for Club Members… including…
REGISTER of available vehicle to purchase
REGISTER OF major Service and Parts Suppliers
A 'LOAN BANK' of tools and equipment that members can use for various tasks – thus avoiding investment in expensive tools and equipment for short-term tasks.


Body Lift and Chassis Dolly available for member loan
We are also planning ahead for new events when restrictions are lifted. So stay tuned and check back on our Events Box for developments.